Regular price
Sale price
$93.00 USD
Unit price
per
Sale
Oh no. Just sold out
A skin-loving, nature-inspired sunscreen enriched with a harmonious blend of nature and science's best to provide enhanced UV protection. This antioxidant-rich daily skinvestment effectively combats premature ageing, protecting your skin against UV stressors – including those emitted by your screens. Clinically proven to prevent inflammation, curb bacteria proliferation, keep skin protected and moisturised, indulge your senses in its satin finish and weightless texture. Start your days feeling fresh, pampered, and protected.
Suitability

All skin types. Especially suited for dehydrated , Dry skin types. Can be used for sensitive skin.
Free From

Cruelty Free • Parabens Free • Silicones Free • Phthalates Free • Mineral Oil Free • Chemical Sunscreen • Drying Alcohol-Free • Artificial Fragrance-Free
Ingredients List

Lavandula Angustifolia (Lavender) Flower Water, Aqua (Water), Caprylic/Capric Triglyceride, Cerium Oxide, Pentylene Glycol, Behenyl Alcohol, Batyl Alcohol, Stearic Acid, Heptyl Undecylenate, Cocos Nucifera (Coconut) Oil, Simmondsia Chinensis (Jojoba) Seed Oil, Helianthus Annuus (Sunflower) Seed Oil, Sasa Senanensis (Bamboo) Leaf Extract, Lecithin, Cymbopogon Citratus (Lemongrass) Leaf Oil, Eucalyptus Globulus (Eucalyptus) Leaf Oil, Lavandula Angustifolia (Lavender) Oil, Pelargonium Graveolens (Rose Geranium) Oil, Citrus Aurantium Dulcis (Orange) Peel Oil, Citric Acid, Sodium Citrate, Platinum, Sodium Anisate
Share
View full details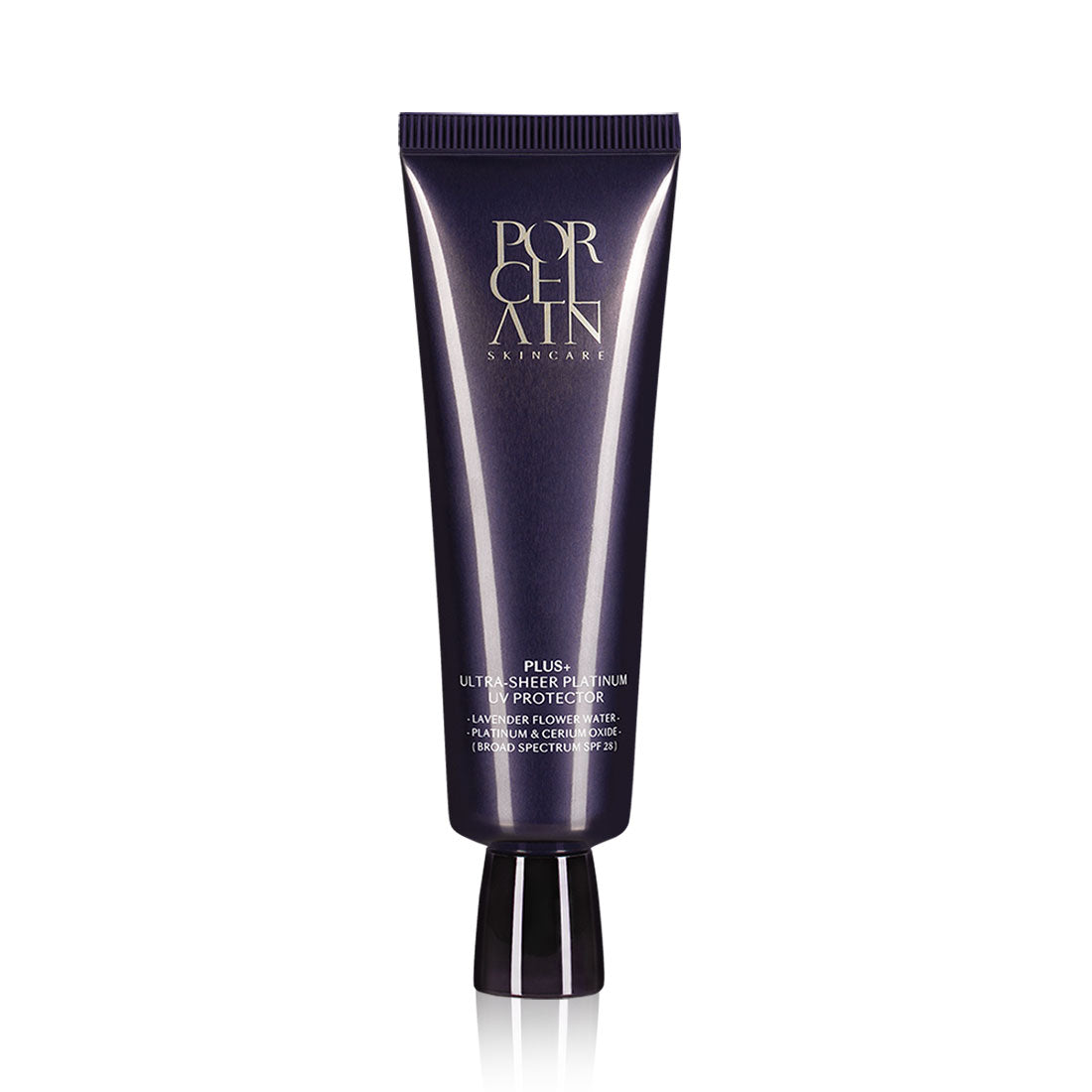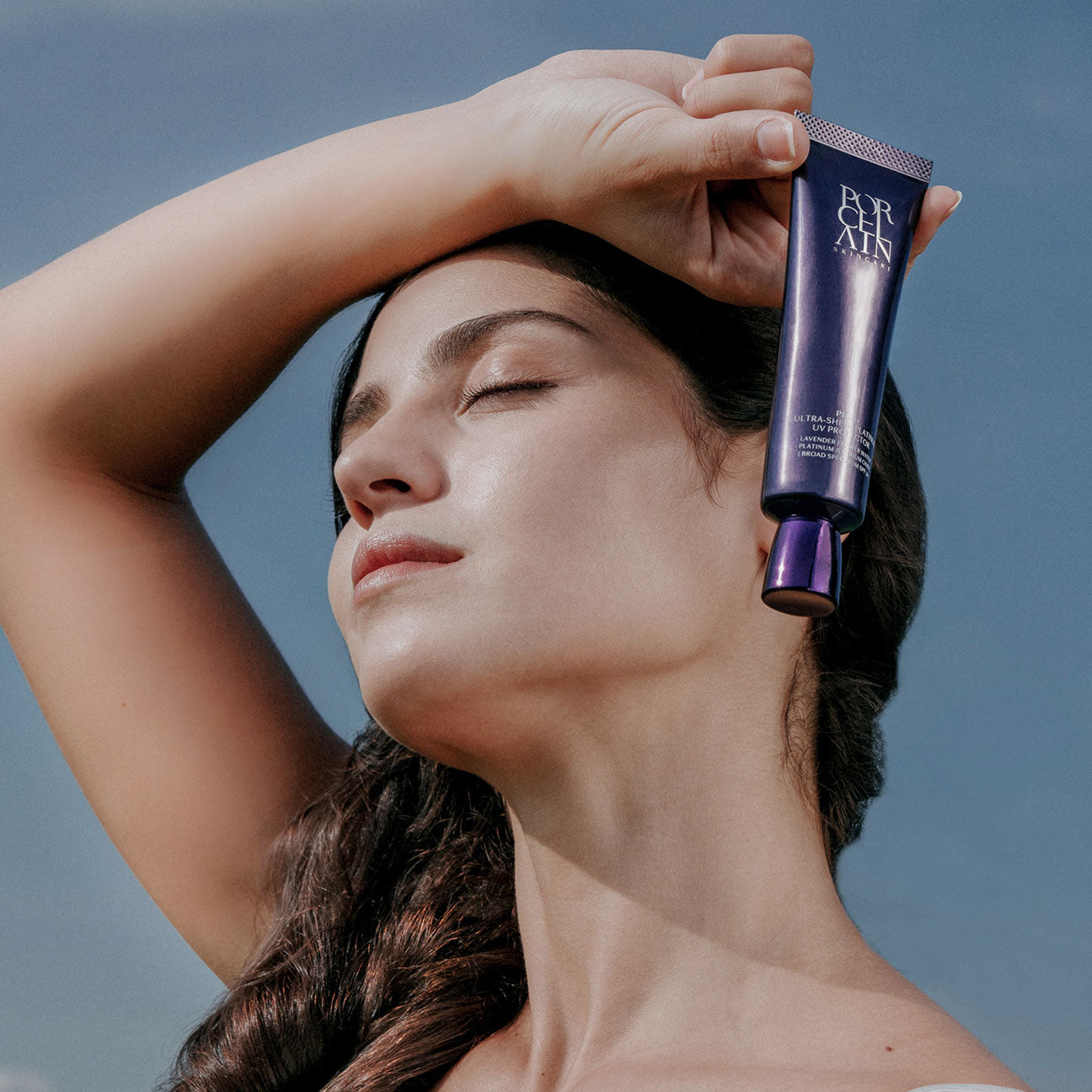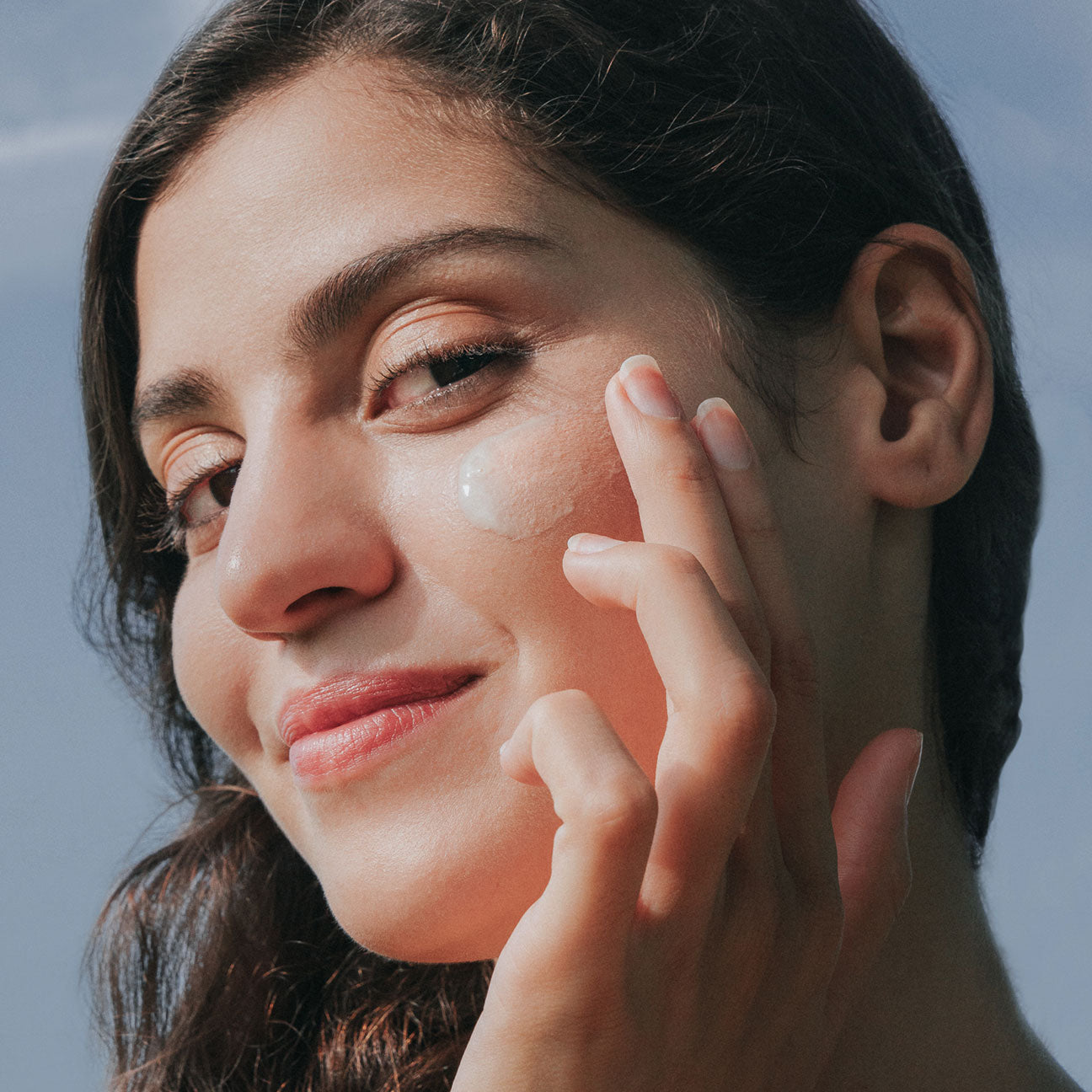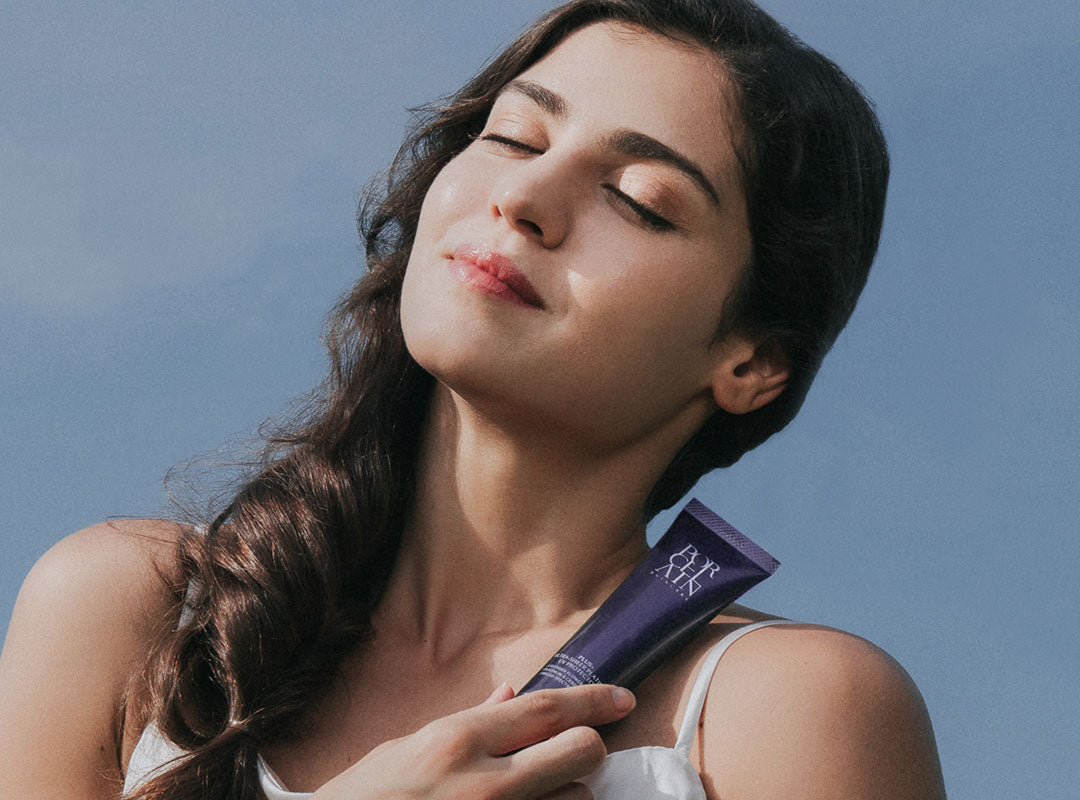 Skincare-grounded UV Protection
A luxurious, Skincare grounded union of enhanced UV Protection with organic ingredients that are Guilt-free & Reef-friendly.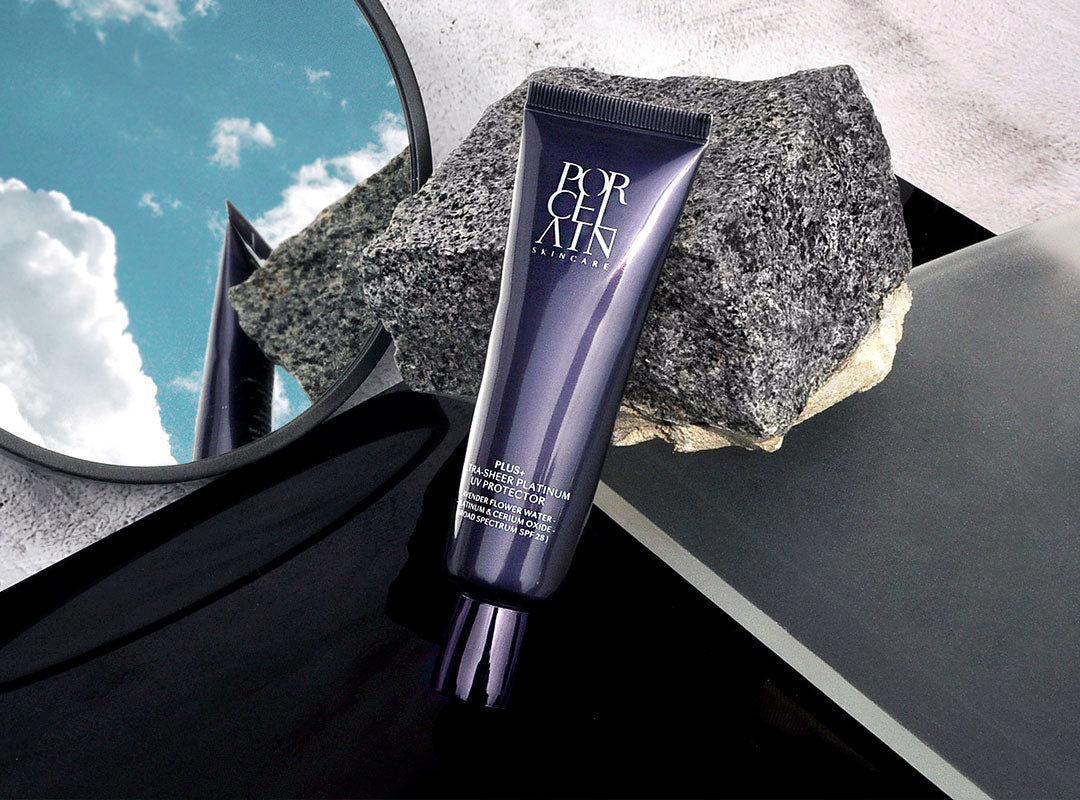 Key Benefits
✓ Broad Spectrum UV Protection
✓ Anti-UV
✓ Anti-blue light
✓ Protect against free radical and oxidative damage
✓ Infused with skin-loving ingredients that benefit dry, acneic, ageing and sensitive skin
✓ Organic & reef friendly formulation
✓ 100% Mineral UV Protection
✓ White-cast free
Lavander Flower Extract

Aids to reduce skin inflammation and irritants. Provides a calming and soothing scent.

Cerium Oxide

An effective UV-scattering agent, reflecting both UVB and UVA rays.

Platinum

Known for its anti-aging properties, revitalizing components to enhance firmness, reduce the appearance of wrinkles and improve skin elasticity and hydration.

Jojoba Seed Oil

Hydrates the skin while reducing skin redness, ease the effects of eczema and rosacea, and keeps the skin calm and comfortable. with its rich anti-inflammatory properties.

Sunflower Seed Oil

Prevents UV damage to cells and aids against premature aging of skin by protecting the collagen and elastin content.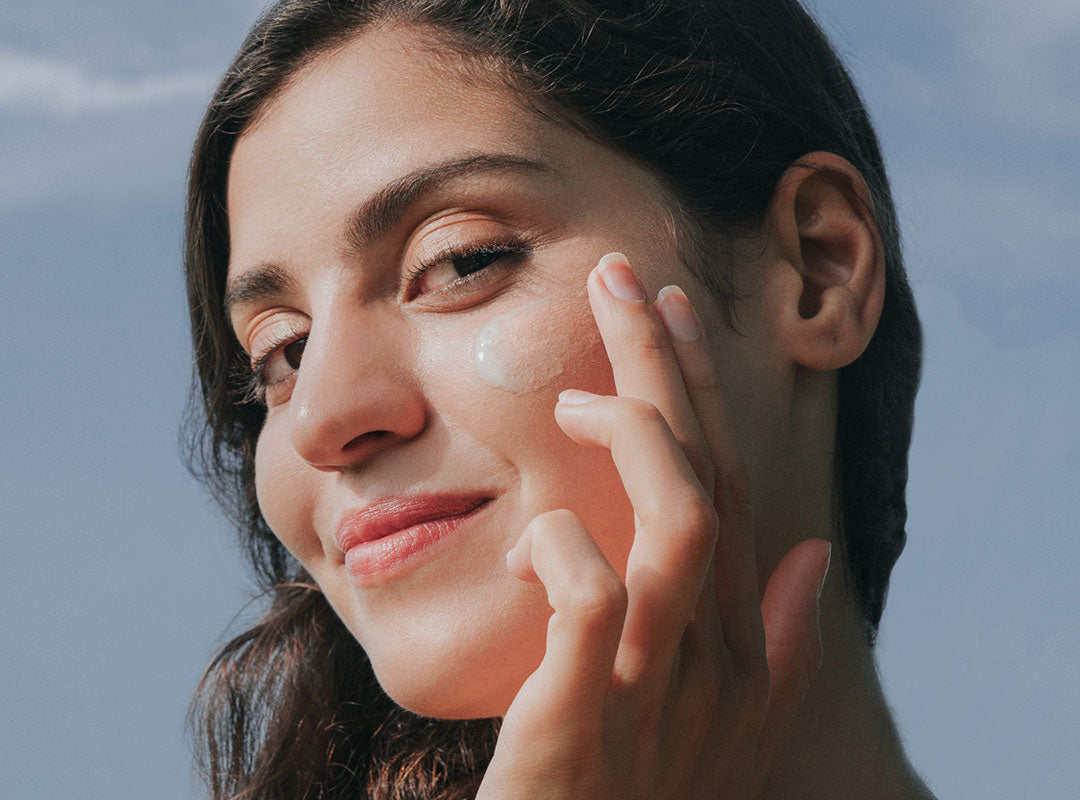 More than Just A UV Sunscreen
Harnessing the ample capabilities of Cerium Oxide, Platinum and SasaSenanensis (Bamboo) Leaf Extract allows this weightless sunscreen to tackle ageing at the root while providing anti-UV, anti-blue light, anti-pollutive and anti-oxidative benefits.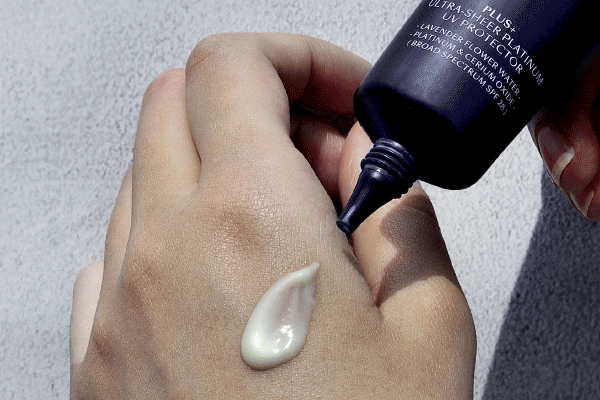 How to Use
Step 1: Squeeze out and spread a generous amount onto the face, neck and décolleté as the last step of your daily routine at least 15 minutes before sun exposure.

​Step 2: Gently pat to blend the formula into the skin.

​Bring it along with you through the day and reapply as needed.
HA+ Hydrating Serum

Pair with HA+ Hydrating Serum to boost anti-ageing function.

SHOP NOW

Bio-DNA Defence Aqua Gel

Pair it with Bio-DNA Defense Aqua Gel for enhanced anti-aging actions

SHOP NOW

Bio-Reset Intensive Night Recovery Elixir

Pair it with Bio-Reset Intensive Night Recovery Elixir for full day protection

SHOP NOW
Frequently Asked Questions
Does Ultra-Sheer Platinum UV Protector cause breakouts and milia?

As the Ultra-Sheer Platinum UV Protector contains Platinum and other ingredients that work to stimulate cellular renewal for glowing, youthful skin, those who have congestion may experience skin purging.
Is Ultra-Sheer Platinum UV Protector lightweight?

Yes, the Ultra-Sheer Platinum UV Protector has a lightweight texture that allows for an easy application and white-cast free satin finish.
Why should I wear sunscreen?

In an urban environment, our skin is consistently exposed to the Sun's UV rays (UVA & UVB), pollutants, irritants, free radicals and blue light. By investing in an SPF that offers enhanced protection, you can keep your skin healthy, glowing and timeless for years to come.
When to apply sunscreen?

Apply Ultra-Sheer Platinum UV Protector at least 15 minutes before sun exposure so it can be absorbed by the skin and less likely to wash off when you perspire.
Is Ultra-Sheer Platinum UV Protector a physical or a chemical sunblock?

It is a 100% physical sunscreen that offers benefits for sensitive, acenic, ageing and dry skin. Its enhanced protective abilities keep skin safe from damage while nurturing it underneath.
What skin benefits can I get from the Ultra-Sheer Platinum UV Protector?

Designed with a blend of skincare's latest advancements and botanical extracts widely used in traditional medicine, the satin-finish Ultra-Sheer Platinum UV Protector's works for:

For Sensitive Skin:
Lavender Flower Water, Lavender Oil and Cymbopogon Citratus (Lemon Grass) Leaf Oil lend their anti-inflammatory, anti-bacterial and anti-oxidant properties to keep sensitive skin calm and protected against irritants. Furthermore, Lavender Oil promotes wound healing by stimulating increased collagen production.

For Acneic Skin:
Eucalyptus Globulus Leaf Oil, Pelargonium Graveolens (Rose Geranium) Oil and Cocos Nucifera (Coconut) Oil work to prevent bacterial and fungal proliferation, form stronger skin barriers to defend against irritants, soothe inflammation and stimulate the skin's natural healing abilities.

For Ageing Skin:
Sasa Senanensis (Bamboo) Leaf Extract contains anti-UV properties that protect the skin's cells from UV damage. To further enhance its defensive abilities, Platinum, a highly stable anti-ageing ingredient, was added. Known for its multipronged ability to remove cellular toxins and shield the skin against free radical damage, Platinum has proven itself as an effective anti-ageing agent in the realm of skincare.

For Dry Skin:
A blend of Jojoba Seed and Sunflower Seed Oils rich in fatty acids and Vitamin E moisturise the skin while promoting the repair and maintenance of its natural barrier against irritants that threaten to further dry skin.
Eco-friendly

We keep your skin and the environment safe through sustainable formulations with recyclable bottling and packaging.

Read More

Plant A Tree

We are committed to planting 1 tree with every order you make, making planet Earth a better home for all.

Read More

Recycle & Reward

Recycle empty Porcelain bottles with us and be rewarded. The environment will thank you too!

Read More